Five Guys
11:00
-
22:00
11:00
-
22:00
11:00
-
22:00
11:00
-
22:00
11:00
-
22:00
11:00
-
22:00
11:00
-
22:00
Five Guys

Venetian
11:00
-
22:00
11:00
-
22:00
11:00
-
22:00
11:00
-
22:00
11:00
-
22:00
11:00
-
22:00
11:00
-
22:00
尋找我們
营业时间
Day of the Week
Hours
星期一

11:00

-

22:00

星期二

11:00

-

22:00

星期三

11:00

-

22:00

星期四

11:00

-

22:00

星期五

11:00

-

22:00

星期六

11:00

-

22:00

星期日

11:00

-

22:00
Five Guys Macau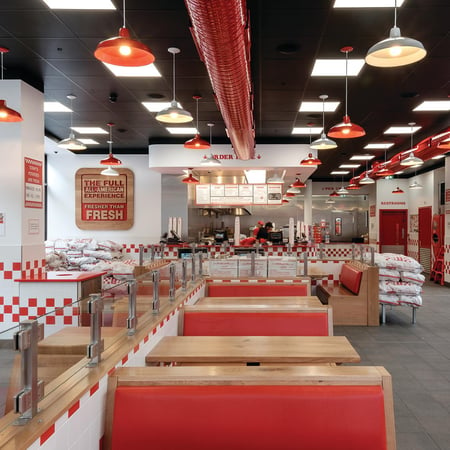 About Five Guys Venetian
歡迎來到 Five Guys 的 Macao Shop No. 1033 Estrada da Baia de Nossa Senhora da Esperanca 分店!誠意為您奉上餐點,相信一定能滿足您期望!我們漢堡、熱狗與三文治配料組合超過 250,000 種,奶昔配料更多達 1,000 款,各適其適。而我們的薯條同樣鼎鼎大名,以「小食亭」手法烹製,每日在店內新鮮手切,以 100% 純花生油香炸,並備有 Five Guys 風味及辣香料風味,您又鍾情哪一款?Five Guys 美食樂趣無窮,期待您來體驗!
現有服務
In-store seating

Good for kids

Takeout

Beer
我們與別不同之處
Freshness

Our crew prepare and press our beef burger patties by hand each morning ready to serve in a toasted bun. Only the most premium quality beef is used. Our burger buns are made using a Five Guys secret recipe, using only free range eggs, making them soft, light and fluffy. If you want something a little different, you can also order a Beef Dog, Vegetarian Sandwich or a Grilled Cheese.

Customization

We believe that you deserve your burger exactly how you like it. Customise your choice of burger with any combination of our 15 toppings, that's 250,000 different ways to order your Five Guys burger! If that isn't enough, we also have over 11 mix-ins for our shakes, ranging from Oreo Cookie Pieces to Bacon! There are over 1,000 different options. What will your winning combo be?

There's always an extra scoop of Fries

The stacked bags of potatoes you see when you walk into Five Guys are the very same potatoes that are hand-cut and prepared in store by our crew, before being cooked in 100% peanut oil to make the perfect fry. We believe in generosity, so you'll always get an extra scoop of fries in the bag when you order. Choose between Five Guys Style or Cajun if you want something a little spicy.
€
Burger